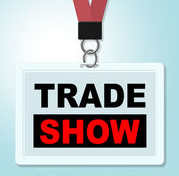 Lessons From the Tradeshow Floor
I attended a trade show this past week and have spent a lot of time setting up trade shows in the Tri-State area. Here's what I have observed that can help you make the most of your trade show experience.
| | |
| --- | --- |
| 1. | Skip the big table in your booth. Make space for you to interact and engage with your audience without a barrier in between you. Use a podium, coffee table, or turn the table sideways so people can enter your space. |
| | |
| --- | --- |
| 2. | Do something fun to engage people passing by. My booth personally had a sleight-of-hand magician and the booth next door in Atlantic City had a 15′ inflatable dog for a vet clinic. Make stopping by your booth memorable. |
| | |
| --- | --- |
| 3. | Look Up. Sometimes it is just that easy. You know the expression- "If I had a nickel for every time I saw this I'd be rich?" Well if I had a nickel for every time I watch someone walk by a booth because the person working the booth has their face down looking at their phone I would be on a tropical island. You paid or are being paid to be there. Be present. |
| | |
| --- | --- |
| 4. | Don't be a lead vulture. Two years in a row I have had an attendee in a similar field attend the expo but not get a booth. For two years they stood in front of my booth and approached anyone that came or went from my booth to talk to them about their services. The first year I was just floored at the rudeness. This year I asked them if they had other booths to visit rather directly. If you see the importance of connecting GET YOUR OWN BOOTH. (The "How Rude") |
| | |
| --- | --- |
| 5. | Get creative. Sponsoring coffee is a sure-fire way to meet every one attending- even the other vendors! At the East Coast Vet Expo in Atlantic City they even have a sponsored dog park for attending dogs to do their "business". Find a way to stand out from the crowd and provide a needed service. |
Don't pay the fee and just expect leads. Know what you want to promote, how you plan to achieve those goals, and what you will consider successful. Need ideas? Call the Fun-Nominal Team and we would lo brainstorm ideas for your next trade show event.